Regular price
$3,000.00
Sale price
$3,000.00
Unit price
per
Product Details

*** Please call / text

 

with any questions about the program! This is the best way to reach me and I will be happy to answer any questions you may have!

1-786-910-0221

This program is only for serious clients or competitors interested in a one on one experience with me (Carriejune), weekly check-ins, my personal phone number for any questions/concerns throughout your journey and working on your goals together! Clients will get a fully customized program to their current body composition and should expect to reach their goals. With this program you will experience a transformation from the inside out, learning everything you need to know to eventually become independent in your training/nutrition, finally achieving the confidence you deserve! **While this program is my best, it's not always available due to only taking on a small number of clients at a time. It is taken down from our website when spots are full, so you're reading this right now I still have a few spots open! The price also rises as spots fill up, so you won't see this program cheaper than it is currently!*

This plan offers:

-Full Assessment

-12 weeks of a downloadable fully customized program to your current body composition and goals

-My personal phone number for communication

-Weekly progress picture check-ins via text (or email if preferred)

-Updates/Revisions to your program as needed to ensure we're continuing to see results and reach your goals!

-Open to Men and Women

-Supplement Guidance

-Detailed and very easy to follow program

-A personalized diet plan according to what you prefer in our consultation with plenty of meal options and flexibility

 -Vegan, Vegetarian and Pescatarian options

-A variety of different workouts weekly

-Home or Gym

-24/7 text support for questions, concerns or motivation

-Open for Beginners, Intermediate and Advanced

-Real results if you're willing to put in the real work!

-My full support on your journey. We're in this together!

-Available Worldwide

Upon purchase you will receive my two-part consultation to the email provided during check-out. Please finish it and email it to me directly at cj@theminibeast.com ASAP and I will have your program finished and ready for you to start in 3-7 days! Please include a before photo with the consultation. With your permission I may feature your 12-week transformation on my Instagram @misscarriejune! Otherwise photos are always 100% confidential. Thanks for taking the time to read and I look forward to coaching you on your fitness journey! :)

 

Note: All Diet/Training programs are non-refundable.
View full details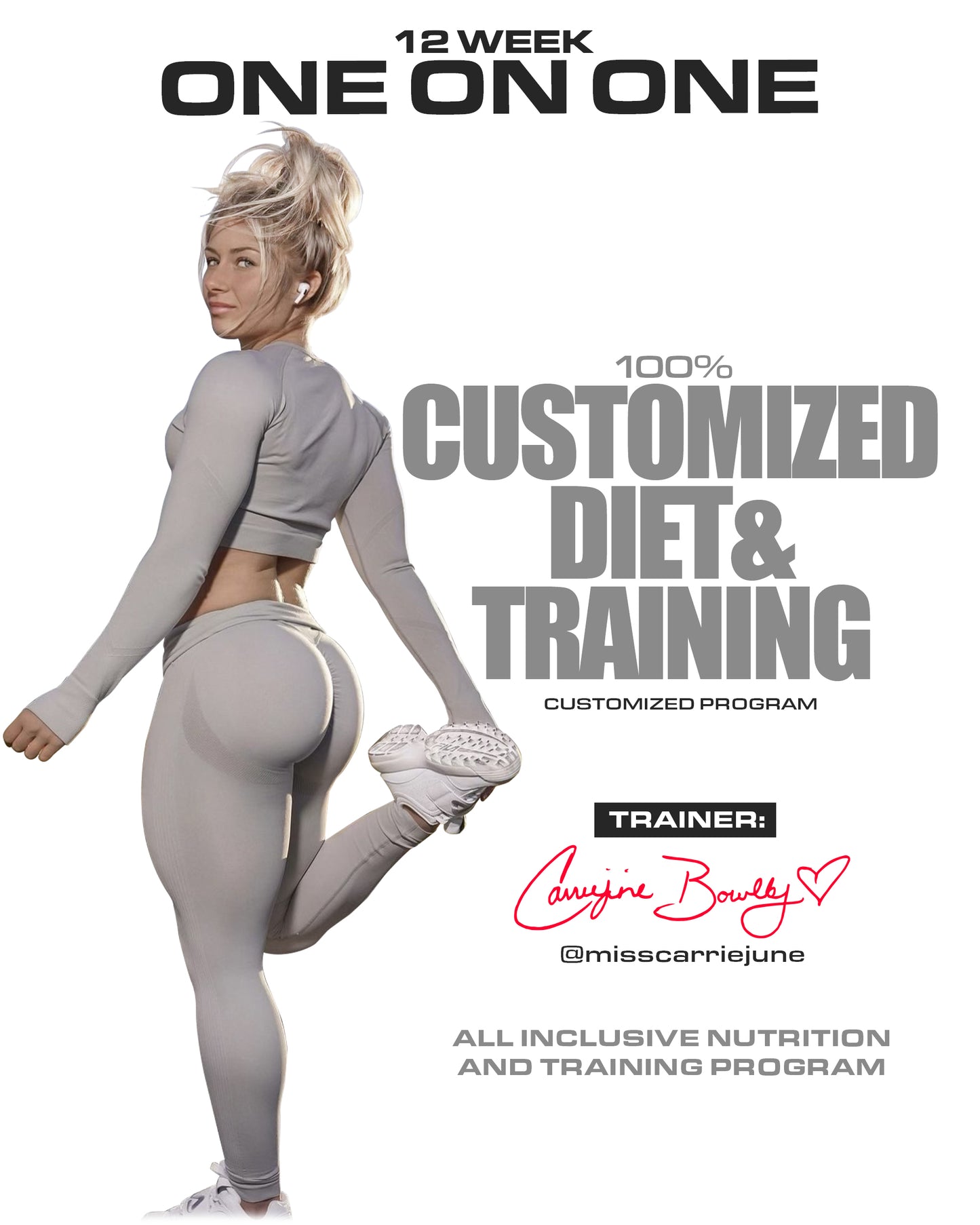 WHAT THE MINIBEAST
COMMUNITY IS SAYING