Regular price
$75.00
Sale price
$75.00
Unit price
per
Product Details

LEARN TO TRAIN BOOTY & LEGS LIKE THE MINIBEAST HERSELF!

Get Carriejune's Booty & Leg Building Secrets!


This downloadable training program includes Carriejune's entire Booty & Legs workouts and tips. These are the same workouts Carriejune has been utilizing for years to build a big booty, sculpted quads/hamstrings and muscular calves.

Most times when it comes to growing our lower body we don't have the proper guidance or direction. We are usually eating too few calories, doing too much cardio or focusing mainly on accessory exercises that will only slim us down and never build the solid foundation we need. That's why Carriejune created the Booty & Leg Program. This program is similar in comparison to Carriejune's general programs but with a HUGE emphasis on BOOTY & LEGS! ...along with a small amount of upper body to balance out your physique and have great tone all over creating a fit-thick look!

MUSCLE BOOTY/LEGS

VS

BIG BOOTY/LEGS

PROGRAM

The Muscle Booty/Legs option is made for those looking to build the booty & legs while leaning out, creating an overall toned and fit look. This option isn't designed for extreme booty & leg building results as it also focuses on burning fat and tightening up all over. The Big Booty & Leg option is for "hard gainers", the people who have trouble putting on mass, or for those who just want to put on a lot of muscle/curves without concern of fat and weight gain as well! This option is designed to put on as much Booty/Leg mass as possible in 8 weeks, but you should expect to gain some weight in other areas as well. If you have weight to lose but still want to gain a big booty/legs, my suggestion would be to start with the Muscle Booty/Legs option until you're down to a body fat percentage that you're happy with, then eventually switch to the Big Booty/Legs option to start focusing on building more mass!


BOOTY BANDS ARE RECOMMENDED FOR THIS PROGRAM FOR BEST RESULTS.

Set yourself up for success with a comprehensive nutrition and training program that has been proven on thousands of Carriejune's clients.


Program Includes:

8 weeks of workouts that change at the 4 week mark. 3-4 days a week of booty/legs and 2 days of upper body/abs.

Carriejune's Personal Tips for sculpting and developing Booty & Legs

The most advanced and tailored meal plans ever offered outside of a 1 on 1 coaching program, including your own custom calories & macros!

Several Example Diets if you want to know exactly what to eat and when with a variety of meal/snack options

Carriejune's favorite meal recipes for growing the booty and other fun recipes to help make food healthy and taste great!

Vegetarian and Vegan meal plan options

Supplement recommendations & discounts

The opportunity to learn A TON about nutrition, training and what works best for your body


This program can be used by both men and women!

Note: All Diet/Training programs are non-refundable.
View full details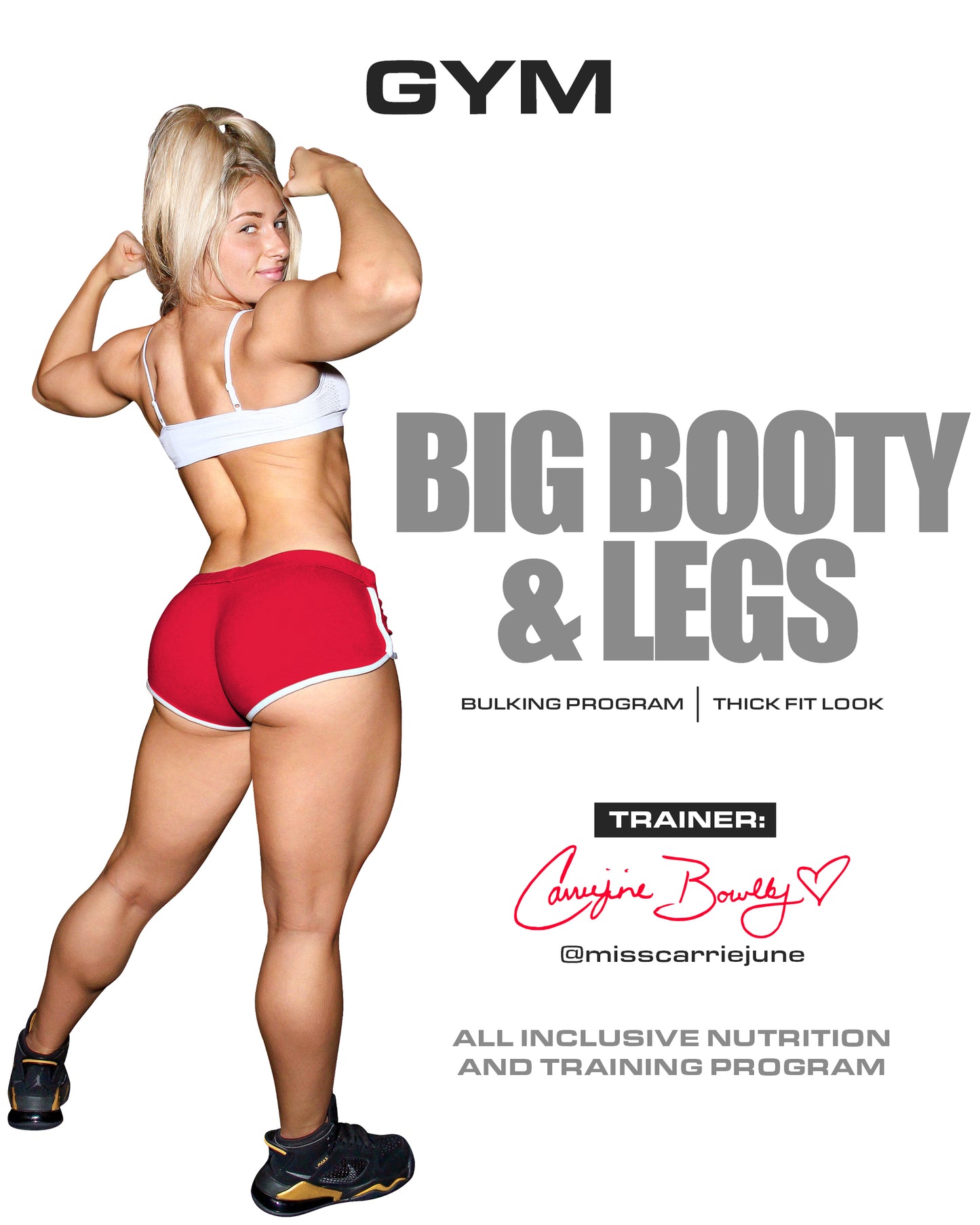 WHAT THE MINIBEAST
COMMUNITY IS SAYING