Regular price
$55.00
Sale price
$55.00
Unit price
per
Product Details

LET ME BE YOUR AT-HOME WORKOUT COACH!

This downloadable Diet and Training Program contains absolutely everything you need to get the most effective fat burning results possible with AT-HOME WORKOUTS!

This is the program Carriejune has used personally to lean out and swears by it. You'll be able to burn fat and lose weight on a program that's not only going to get you into the best shape ever, but also won't cut into your personal life. Unlike most shredding programs, this offers a wide variety in both diet and training to make it maintainable and realistic! No restrictive cookie cutter diets or hours of training and cardio here. Carriejune promotes a well-balanced, fun and healthy approach to achieving amazing results! This program can be used by men and women. Typical results for clients using this program have been a 10-20 lb weight loss! Join them today! 

*If your goal is not to lose a lot of weight/fat, but rather to gain some muscle and tone up, go check out Misscarriejune's TONE & TIGHTEN AT-HOME WORKOUT Program!*

Misscarriejune's SHREDDING AT-HOME WORKOUT Plan Includes:

Macro based meal plan fully custom to your body composition and goals

Easy to read Charts created to show exactly what macros and calories you should be eating to shred fat while maintaining muscle

Example Diets with a variety of meal/snack options. You can follow these exactly or use them as a guide to create your own meal plan based on your personal calories/macros

My Favorite Recipes

FULL AT-HOME WORKOUT training program specifically targeted to help you burn fat while maintaining existing muscle mass

Cardio guidelines specifically for fat burning

Supplement and Vitamin recommendations and discounts for fat burning

And so much more!

Not tomorrow, not the next day, not Monday. Start today, right now. No more excuses!!

All Diet/Training programs are non-refundable.
View full details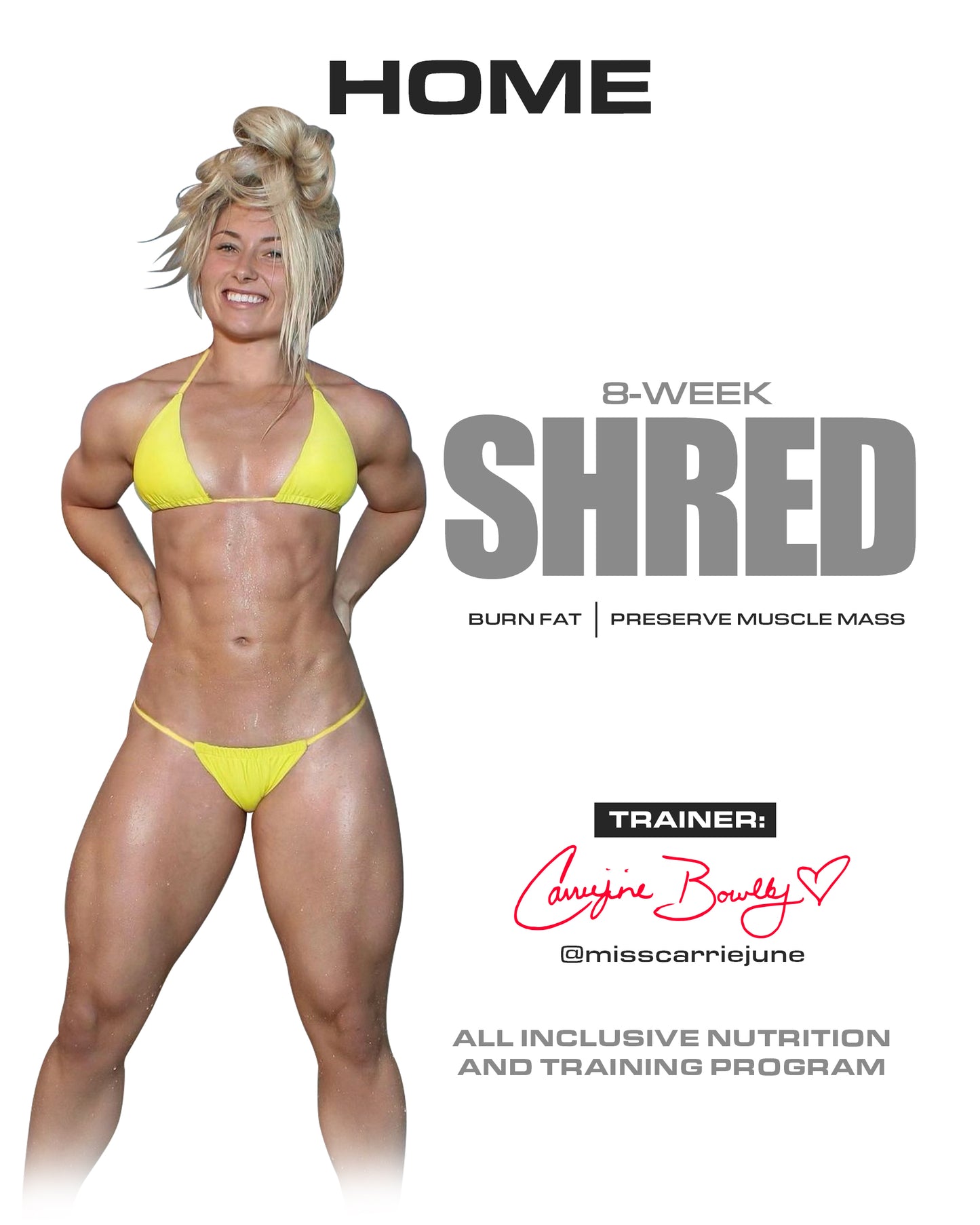 WHAT THE MINIBEAST
COMMUNITY IS SAYING